I have been anxiously awaiting the day that Miss Jenny's AlphabeThursday meme would return to "A". I have gone through the A-Z cycle once before, and wanted to join in again.
Today is the day. Hooray! If you'd like to join the fun, pay a visit to ..off on my tangent... and link up!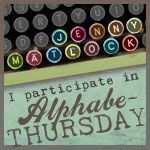 A is a no brainer for me right now. Earlier this month, I went to see The Avengers Movie.
I had been waiting for what felt like forever, and yes, I was in the seats on opening day - a happy contributor to the #1 box office opening of all time.
The movie didn't disappoint. I know I will watch it over and over, and over again, and love it every time.
If you haven't seen it yet, and enjoy great action, good vs evil stories, and superheroes with a touch of humanity, I highly recommend treating yourself to this one while it is on the big screen.
The PG-13 movie is a fantastic blend of amazing cinematography, well cast actors, a great script, and the genius of Joss Whedon.
Fans can visit the site for downloads, like that cool picture I included in the post. (which belongs to Paramount Pictures and Marvel, and was offered as a downloadable image, which I took full advantage of.)
The DVD and Blu-ray release date is September 25th. I will definitely have my copy that day. :)