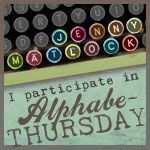 Today it's Thursday, which means it's time to link up with Jenny at ...off on my tangent... for her weekly Alphabe-Thursday Meme.
I love this one. Each week, the participants make a post using a letter of the alphabet for our theme. Then we all link up on Jenny's blog. I love reading through the other entries!
In my house.. N is naturally cause for a post about NINTENDO!
My first introduction to
Nintendo
was when my younger brother got an
NES (Nintendo Entertainment System)
for his birthday.. sometime in the mid-eighties. We were part of the arcade generation, but
Nintendo
took us out of the arcades and into our living rooms before we had to worry about looking like creepy adults hanging around the kids.
I couldn't play to save my life, but when I'd come home to visit, I loved watching my brother and his friends move the little plumber up and down the pipes and do all the things he had to do to save the Princess.
Then, several years later, he did an upgrade, to
Super NES
. We were grown by then, but we still loved Mario and his friends, Donkey Kong, and the other
Nintendo
favorites.
Many people had this sort of relationship with the little guys from our games. (Some might call it addiction.. ) and
Nintendo
seized the opportunity to put their gaming systems right into our pockets. The graphics were awful, and the games were simple, but everybody wanted a
Game Boy
! (These showed up sometime between the
NES
and the
Super NES
)
There were several different
Game Boys
. They eventually became the silver things you see in my sons' hands in the picture below. Small, with little cartridges that pop in and out to change games, these were pure genius.
I should not have been surprised when my own boys took to the GameBoy Advance like fish to water.
By the time they were 6, all they wanted was a Nintendo DS. They were so excited when Santa delivered!


Another big day was the Birthday when they got their Nintendo Wii. The interactive games are so much fun.
Here they are in their favorite store in New York City.. Nintendo World! They are both playing Wii games. The one thing I like about Wii is it finally has kids up and moving when they play.
Like most children, mine are prime targets for marketing - and the Nintendo people are definitely marketing geniuses. These are some of the most recognizable characters in the world. Mario, Donkey Kong, Link from Legend of Zelda, Pickachu, Kirby, Fox and Samus Aran are all represented in my home in some form or another. T shirts, toys, games, posters, wall clings, plush toys, figurines, games, pajamas, you name it.


Along with many of their friends...


My favorite is Toad.
Not bad for a little company that used to sell Hanafuda gaming cards!
And, if you'd like a useless bit of trivia - the word Nintendo means "Leave Luck to Heaven."