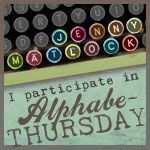 Hello and welcome to another round of Alphabe-Thursday brought to you by Jenny Matlock at ..off on my tangent... Today we salute the letter "S". That seems fitting for this soggy day.
It's Surely no Surprise that sons would be my "S" selection.
My boys are Super Silly:


Slightly Stinky:
Selectively Sulky and Sensitive:
Sometimes Scary:
Super Sweet:
(the funny faces and beat up puppet always make me laugh!)
My
Sons
are the
Sunshine
in my
Simple
life. Their
Spirit
and
Spunk
make me
Smile
. They are the
Sparkling Stars
in my
Solar System
.
Stop
back next week when we
Take on "T".
Sincerely,