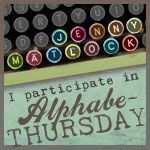 Today is Thursday, which means it's time to link up with Jenny at …off on my tangent… for her weekly Alphabe-Thursday Meme.
I love this one. Each week, the participants make a post using a letter of the alphabet for our theme. Then we all link up on Jenny's blog. I love reading through the other entries!
Today we
reflect
on the letter
R
.
The big
R
word in this house is
Reading
. We have so many overflowing bookshelves!
A post I wrote in May
describes how voraciously we devour books.
In second place would come roses. They are the most beautiful flowers. I love to see them growing, I love to get them as a gift, and I like to give them, too.
Happy Thursday, and thank you to Jenny for hosting. Stop back next week for "S"!