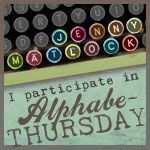 It's Thursday. I love Thursday because it means it's Alphabe-Thursday with Jenny Matlock at ...off on my tangent...
Today we tout the terrific letter "T".
Take a look at these Tiny Toes:


the
picture pretty close to the actual size.
That
is what the footprints of a
thirty-two
week preemie
twin
look like. Before I could hold my babies, I could only
touch their toes
.
They
were
tethered to
many
tubes.
It was
tough
.
Time
passed, and the
twins
grew.
They
were
tenacious
!
Take
a look at these
too
cute
thighs
, and
the twenty, tiny, toddler tootsies
a year later!
Here they are now. Twenty Tween Toes that travel under these Tech Toting Twins.
Time
flies...
Some bonus "
T
" - Don't miss my post on the
SheSpeaks blog about parenting Twins
.